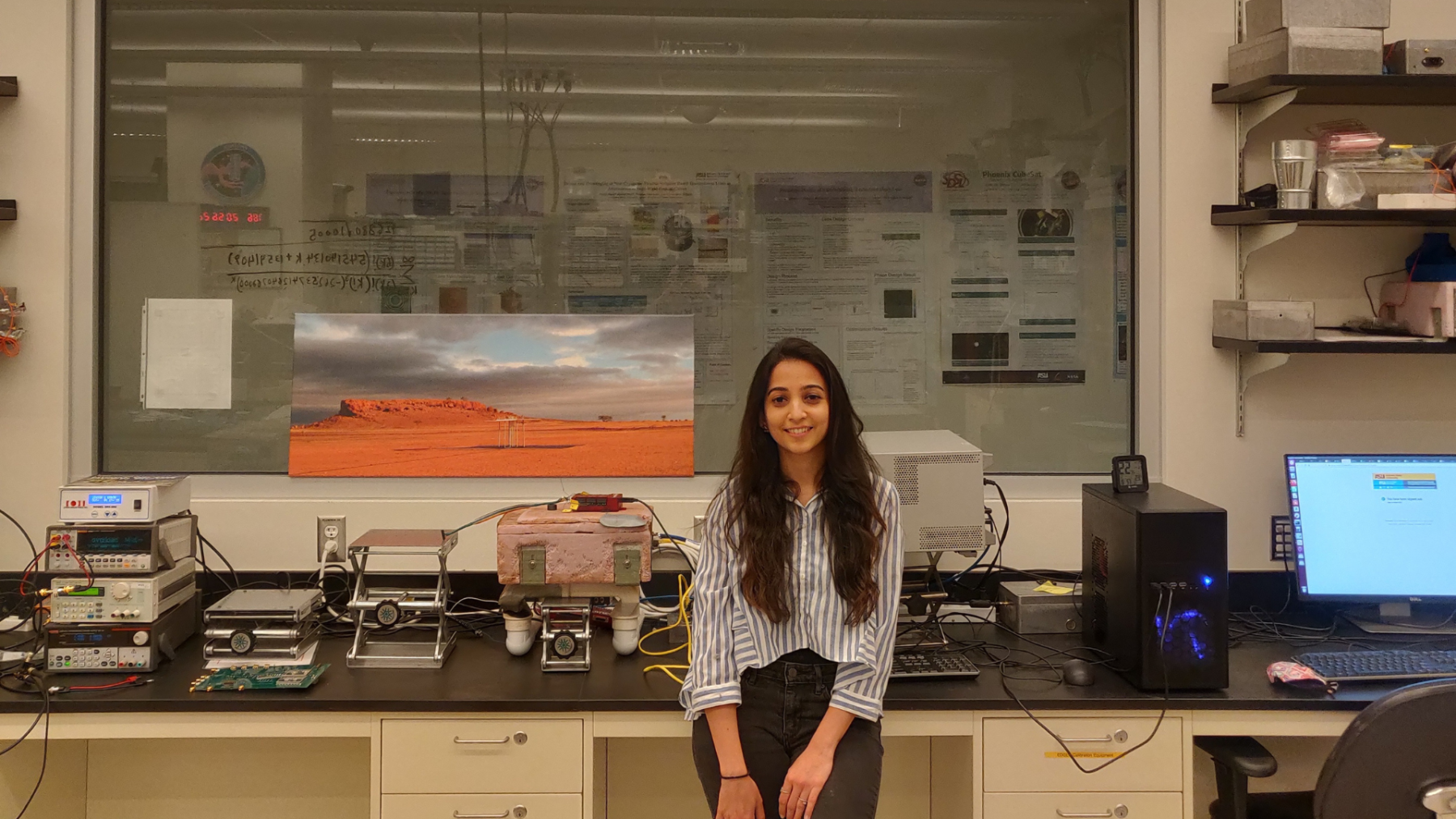 Astrophysics PhD candidate studies first stars, dances dissertation
With a light switch, candle and three balls of decreasing sizes to represent the sun, the Earth and the moon, Nivedita Mahesh's father demonstrated eclipses. Through at-home experiments like these, he not only solidified concepts she learned in school but also ignited her lifelong passion for science. 
Mahesh, a PhD candidate in astrophysics from Coimbatore, India, researches early universe cosmology, specifically when the first stars formed in the universe.
Stars Aligned
After receiving her undergraduate degree in instrumental engineering and before starting her master's degree in electrical engineering, Mahesh worked as a research assistant at the Raman Research Institute in India. Here, she used her engineering skills to design an antenna to study astrophysics. Throughout this process, she realized there are so many questions in astrophysics that are still unanswered. 
"People have so much to discover and so much to explain," said Mahesh. And she wanted to contribute to these efforts.
Using radio instruments, such as antennas, in remote locations, Mahesh and other researchers look at radio frequencies to study the first stars. Researching the very first stars of the universe can answer questions like whether the standard physics equations of the universe apply. 
In 2018, Mahesh's research group had a big detection — the first signals from "Cosmic Dawn," the time when the universe's first stars formed. Her research group is led by Judd Bowman, an experimental cosmologist and professor at Arizona State University. Their finding was a breakthrough in the understanding of the cosmos.
Dance and Dissertation
Mahesh's dissertation looks at how the antenna beam of an instrument impacts the detection it makes, how this can be improved and how it can be calibrated. One chapter of her dissertation looks specifically at the feasibility of placing a telescope on the far side of the moon. For this research idea, Mahesh was selected as a NASA Future Investigators in NASA Earth and Space Science and Technology Fellow. 
As a NASA FINESST Fellow, Mahesh was awarded a three-year grant for her research, "Lunar radio prototype array for exoplanet and cosmology studies."
Mahesh is currently workshopping the idea of dancing her dissertation. 
"This whole concept of the first stars of the universe — I want to show it through choreography," said Mahesh.
A trained Indian classical dancer with over 20 years of experience, Mahesh says dance is just as important to her as research. She dances for at least an hour each day and is a co-founder of Swarajathi, an Indian classical team and branch of SPICMACAY at ASU. SPICMACAY is a student movement dedicated to educating the youth and community about India's rich and classical cultural heritage. 
Uplifting Community
While at ASU, Mahesh says she has grown as both a dancer and researcher. She attributes this growth, in part, to the community she found here.
"My professors and my group — they're brilliant researchers. They have taught me so much from the textbook but also so many life skills," Mahesh said. And though she has found great peers and mentors along the way, Mahesh recognizes that throughout her academic career, there were very few women, especially women of color, also there — and she hopes to change that.
In fall 2020, Mahesh founded Letters for Our Girls, an initiative that curates letters of power and dreams received from South Asian women around the world. This initiative aims to inspire South Asian girls to follow their dreams and to show families of South Asian origin a future for their daughters that is beyond cultural constructs and gender stereotypes.
"I wanted a place to highlight that there can be women in any field you can dream up," Mahesh said.
After completing her PhD this summer, Mahesh will head to the California Institute of Technology for a postdoctoral fellowship. While there, she plans to start a cosmic history and continue with her moon and lunar telescope research.
Jenna Nabors