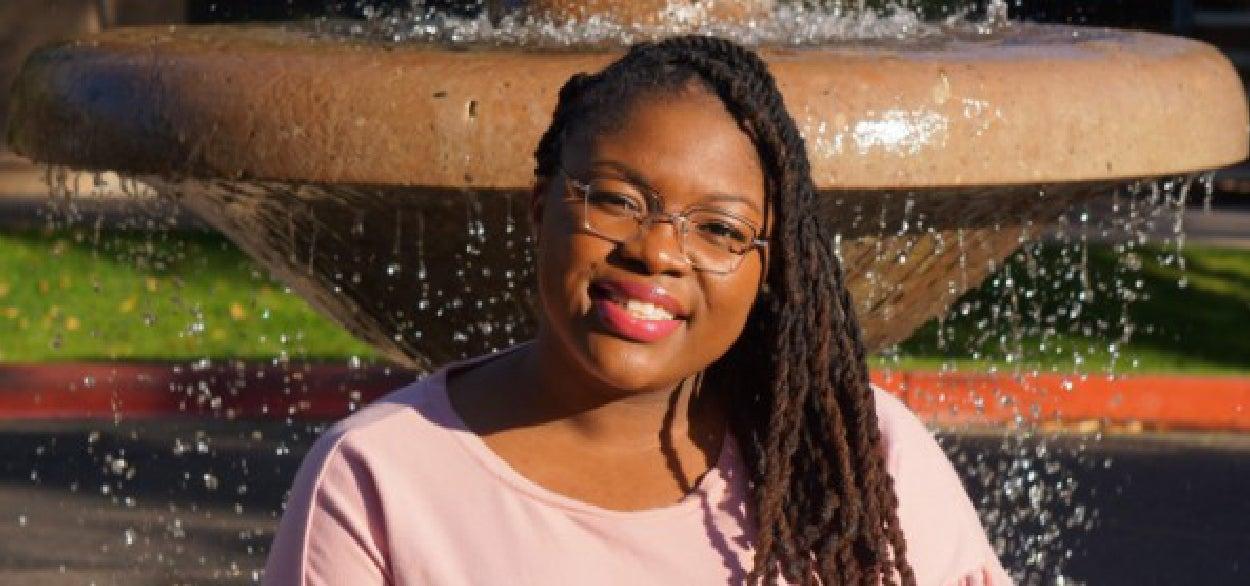 ASU Graduate Student Katreena Thomas wants to make engineering education more diverse and inclusive
Being an engineer has always made sense for Katreena Thomas. She has always been good at math and science, her mother encouraged her to pursue engineering by enrolling her in STEM camps and classes, and she always loved the idea of being a problem solver.  
However, during her undergraduate education, and in subsequent years working in the engineering field, Thomas learned that there are "problems that can't be solved with math and science because they are problems about people." 
Thomas is a Black woman engineer and has faced challenges relating to these intersecting identities. 
Low-representation in the field, hyper-visibility in her classes and the general lack of diversity and inclusivity in engineering made it an even harder career choice than Thomas had anticipated.
But Thomas never gave up and now these challenges inform her research as a graduate student at ASU.
Thomas's research is focused on the lived experience of the Black engineering student. She hopes to use her research to both inform and transform engineering education into a field that fosters inclusion and diversity.
Simultaneously working towards her Master's degree in Human Systems Engineering and a PhD in Engineering Education Systems and Design, Thomas's goal is for "engineering to be a premier option for students who look like me," she said.     
The SPACE Lab
During her entire undergraduate education, Thomas never had a Black professor. 
It wasn't until she enrolled in graduate school at ASU that she connected with Dr. Brooke Coley, who became her first Black professor and serves as her advisor and mentor.
It was Dr. Coley who introduced and invited Thomas to the SPACE Lab at ASU.
The SPACE Lab, which stands for Shifting Perceptions, Attitudes & Cultures in Engineering, "aspires to elevate the experiences of marginalized populations, dismantle systemic injustices and transform the way inclusion is cultivated in engineering through the implementation of novel technologies and methodologies in engineering education," according to the program website. 
The SPACE Lab is where Thomas conducts much of her research. 
"I'm really interested in participatory action research," Thomas said. "So by combining my research with my action oriented mindset, I can kind of create actual programs and interventions that addresses a lot of the issues that I'm studying."  
One of the programs Thomas has been working on in the SPACE Lab is a virtual reality module designed to emulate the marginalizing experiences that People of Color encounter while navigating engineering spaces. The purpose of this module is to expose others, particularly those that benefit from inlcusion privilege, to the experience of engineers of color in order to foster empathy and awareness that may potentially influence positive behavioral change, according to Thomas.
"We put a White guy through the module and afterwards he said that he wanted to sue the people in the module. He was ready to file a class action lawsuit," Thomas said. "But for me, and for others in the Lab, you know, the module experience is something we go through all the time." 
Thomas believes that capturing lived experiences in the VR module, and in other projects being created in the SPACE Lab, will help create much needed change in the field of engineering.
"We are helping people to understand and empathize with the experience of engineers of color," Thomas said. "Because in order for people to make change and to understand these really tough concepts, they have to have some type of experience and connection to them."
Engineering Leadership
In addition to studying the experience of Black engineering students, Thomas is also interested in Black leadership in the field of engineering education.   
When she first entered the engineering field after completing her undergraduate education, Thomas was placed in a leadership position.
"In my career, I was a leader for people who had never even interacted with a Black woman in the field, let alone had to report to a Black woman," she said. 
Thomas believes she knows why that is. 
"Only 2% of engineering faculty in the country are Black," she explained. 
Since Thomas' dissertation is focused on Black leadership in engineering, she believes it is important to be working in a leadership position herself. 
Currently, Thomas is a member of  the Graduate College's student advisory group. In this role, she helps review and revise student policy handbooks in order to make them more accessible and inclusive.
"My engineering program is a piece of a bigger system," Thomas said. "So this opportunity allows me to see how other programs operate, how the Graduate College works with my school and my program and things like that. It's a really cool opportunity."
Additionally, Thomas is working as the Diversity, Equity and Inclusion Intern for the Journal of Engineering Education. 
After she completes her Masters and PhD, Thomas is not sure exactly what she will do. 
She has considered becoming an engineering professor herself. 
"We definitely need more of those," Thomas said.
She has also considered working in an engineering policy position. 
"Ultimately I want to be in a position where I can influence policy and get real change happening," she said. "Because, there are a ton of people like me. I'm not the only one. So, if I can do my part to make a difference and to make sure they're successful, that's what I want to do."