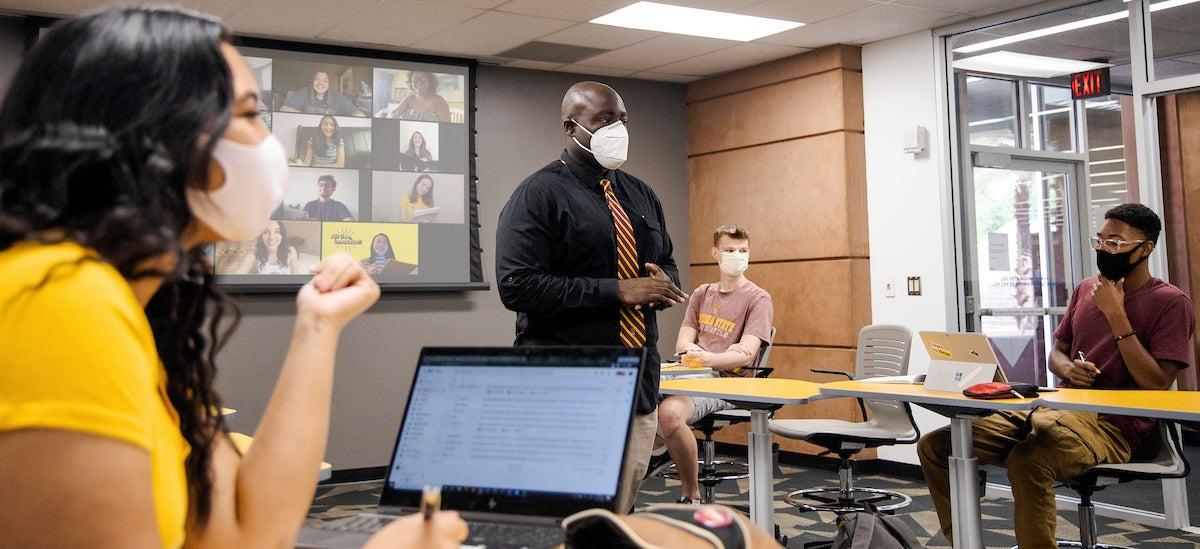 Don't miss out on these upcoming events hosted by the Graduate College this spring!
As the ASU community continues to navigate the global pandemic, the Graduate College remains committed to recognizing student and faculty achievements and curating professional development opportunities through virtual events this spring. 
Whether you're looking for professional development, coping skills, graduate student resources or you just want to help celebrate friends and colleagues, the Graduate College has an event for you!
Be sure to register for events before space runs out! To see the full event schedule, visit our News and Events webpage. 
Upcoming Events
PFx Career Development: Who You Are and What You Need
Thursday, February 4, 12:00 p.m.
Join us for this PFx workshop as John Paulas, president of PhD Matters Ltd. guides you through signature career planning exercises to help you identify professional goals and strengths, discover your hidden professional experiences, and move you forward with the next steps in your professional development.
Thursday, February 4, 5:30 p.m.
The ASU Graduate College is hosting the Graduate Student Town Hall this spring to address your questions and concerns for the upcoming term. Join our panel of ASU leaders to hear how ASU is addressing concerns expressed in the Fall and what lies ahead in 2021.
Postdoc Lunch and Learn: Intro to PowerNotes
Thursday, February 4, 12:00 p.m.
The Postdoc Lunch and Learn events provide professional development and networking opportunities specifically catered for postdoctoral scholars, but registration is open to all. In this workshop, participants will be introduced to PowerNotes, the "first online research platform that not only saves what's important but also keeps it organized."
Grad15 Webinar Series: Mapping Your Support Network
Tuesday, February 9, 11:00 a.m.
Grad15 is a series of 15-minute webinars designed to support graduate students' professional development. The success of graduate students depends on the strength of the connections and relationships they form during their time here at Arizona State University. Join Zachary Reeves-Blurton in a discussion on Mapping Your Support Network.
Outstanding Faculty Mentor Awards
Monday, February 22, 1:00 p.m.
Join the Graduate College as it recognizes faculty members for their outstanding service to the graduate student and postdoctoral scholar communities through mentoring excellence, commitment to professional development and career advancement and the fostering of inclusive, collaborative academic environments. The 2020-2021 awardees will be announced soon and will be recognized at this virtual event on February 22.
Postdoctoral Career Conference (registration coming soon!)
Thursday, March 25
The purpose of the ASU Postdoctoral Career Conference is to give postdocs the opportunity to explore multiple career pathways, and to help postdocs be successful in their efforts to obtain the jobs of their choosing.
Knowledge Mobilization Awards (registration coming soon!)
Friday, April 9
The Graduate College's Knowledge Mobilization Awards are an annual showcase and celebration of the scholarly achievement and innovation of ASU's graduate students and postdoctoral scholars.  The KMAs are an opportunity to collectively acknowledge the contributions our scholars have made to use-inspired and socially impactful research.