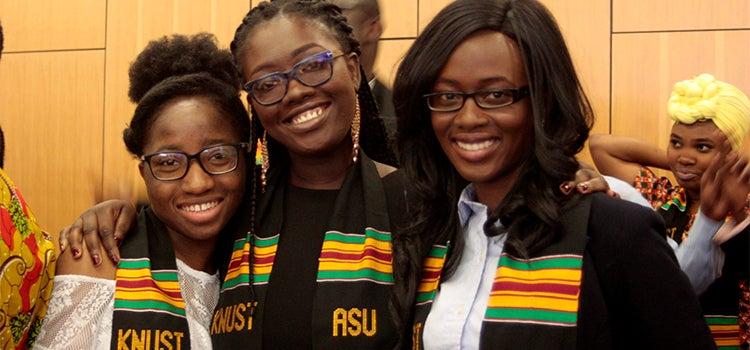 First cohort of Mastercard Foundation scholars complete first year of 3+1+1 program at ASU
In May, the first cohort of twenty Mastercard Foundation scholarship recipients from Kwame Nkrumah University of Science and Technology (KNUST) completed their first year of study at ASU. The students are participating in an International Accelerated Degree Program (IADP) in the 3+1+1 format developed through a collaboration between the two universities with support from Mastercard Foundation Scholars Program at ASU. The 3+1+1 format means that KNUST students complete three years of their undergraduate program at their home institution; these students then complete the final undergraduate year at ASU. After transferring credits from their year at ASU, the students will be awarded a bachelor's degree from KNUST and admitted to a one-year accelerated master's degree in Management, Global Logistics, Mechanical Engineering or Biomedical Engineering.
"Partnering with African higher education institutions is a great learning opportunity for ASU," said Assistant Professor and Director of the Mastercard Foundation Scholars Program Aryn Baxter. "It also benefits the students as they receive mentorship from faculty members at both institutions and have the option of returning to the university where they began their studies to give back after graduation." The option of returning to KNUST as a research or teaching assistant is made possible through Ghana's National Service scheme, which requires Ghanaian students to complete a year of national service before seeking employment in Ghana.
Scholars participating in the program are preparing to give back to their communities—a core goal of the Mastercard Foundation Scholars Program—in a variety of ways. "The pride of a higher education has created in me the urge to give back to society," said Maame Kwamah Otsieku Baah, a Mastercard Foundation Scholar studying at KNUST in Ghana. "I believe that even if I cannot change the world, I can lead the change. True success can only be the measure of the value I add to the lives of others."
This cohort of students is already giving back through their engagements at ASU and in the surrounding community. You can see their scholar profiles for additional details.
The broader initiative, Strengthening Institutional Linkages, was launched in August 2016 and will support a total of 150 Mastercard Foundation scholars to complete master's degrees at ASU over the six years of the grant. Additionally, the initiative supports faculty development activities that bring together faculty members from the partner universities to exchange knowledge and facilitate collaboration. These include an annual seminar hosted at ASU as well as an annual symposium hosted in Ghana. The second round of faculty development activities was completed in March 2018 and the next round will begin in January 2019. In addition to KNUST, it will include a second partner university, Ashesi University College.