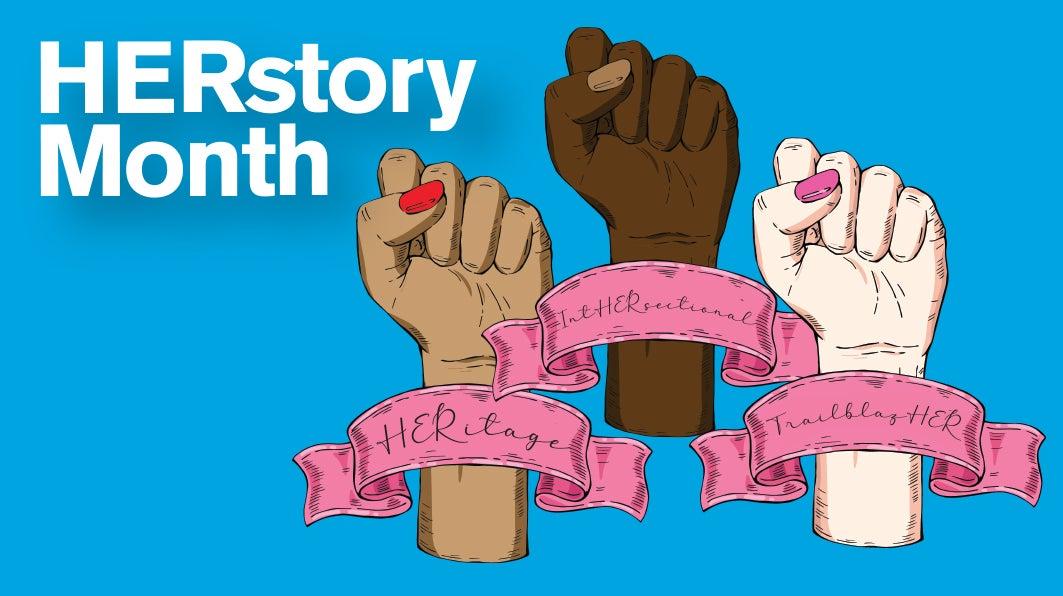 Movies to watch to celebrate Women's History Month
In honor of Women's History Month, the Graduate College has curated a list of movies that recognize historical women, showcase monumental events in women's history and highlight the various experiences of women in America. We'll be highlighting the movie list throughout the month on our social media channels so be sure to follow us on Twitter, Instagram and Facebook. And check out ASU's Women's Herstory Month events taking place throughout March!    
Movie list criteria:
Included in common subscriptions or available to check out from ASU libraries (Did you know you could do that?!). 

Aligned with the theme of Women's History Month and focused on the American experience.

Truth-inspired films that are as inclusive as possible. There are some notable exceptions like Thelma and Louise. 
Our rules meant that we reluctantly excluded some wonderful movies from our list. For instance, the 2005 biopic about American track sprinter Wilma Rudolph is only available on DVD and is, therefore, not featured on this list -- though it is a must see! 
The good news is, more and more movies are being made now than ever about historically significant women, women's experiences and women's movements. 
We hope you enjoy our movie picks!
The United States v. Billie Holiday (2021)
Not the most accurate portrayal of Billie Holiday, a complicated woman living a life complicated by racism, sexism, sexual violence and drug addiction. By focusing on Harry J. Anslinger's obsession with Holiday, especially after she began singing the poem turned song "Strange Fruit, the movie brings racism and Holiday's cultural power to the forefront.
Where to watch: Hulu 
On the Basis of Sex (2018) 
This stirring film follows the iconic Ruth Bader Ginsburg during her early career as an attorney, struggling in a field dominated by men."When Ruth takes on a groundbreaking tax case, she knows it could change the direction of her career and the way the courts view gender discrimination." -Hulu
Where to watch: Hulu. 
Hidden Figures (2016) 
This inspiring film highlights the scientific contributions of three incredible women of color; Katherine Johnson, Dorothy Vaughan and Mary Jackson. These brilliant African-American women working at NASA "served as the brains behind one of the greatest operations in history; the launch of astronaut John Glenn into orbit." -Disney+
Where to watch: Disney+
Selena (1997) 
Known as the "Queen of Tejano music", Selena Quintanilla-Pérez is one of the most celebrated Mexican-American entertainers of all time. This film follows the life and career of Selena before her shocking murder at the age of 23.
Where to watch: HBO
Norma Rae (1979) 
Don't miss this labor classic! "Like her family before her, Norma Rae works at the local textile mill, where the pay is hardly commensurate with the long hours and lousy working conditions. After hearing a rousing speech from a labor activist, Norma is inspired to rally her fellow workers behind the cause of unionism." -Wikipedia
Where to watch: ASU Hayden and Fletcher Libraries 
Ma Rainey's Black Bottom (2020) 
In July 1927, Ma Rainey is a highly regarded blues singer who has recently been contracted by white producers. During a recording session, tensions rise between Ma, her ambitious horn player, who wishes to break free of Ma by securing his own record deal, and the white management determined to control the uncontrollable "Mother of the Blues." 
Where to watch: Netflix
What's Love Got to Do With It (1993)
Don't miss this movie based on the life of the legendary soul singer, Tina Turner! "Born Anna Mae Bullock, Turner discovers her love of singing in her Tennessee church choir. She moves to St. Louis to pursue a career, and there she meets the charismatic Ike Turner, who rechristens her Tina and offers to help her succeed. As a musical team, Ike and Tina take the charts by storm. But as his physical abuse worsens, Tina has to make the tough decision to leave Ike and set out on her own." -Wikipedia
Where to watch: ASU Fletcher Library
The Rosa Parks Story (2002)
This biopic tells the story of civil rights activist Rosa Parks and her public battle against racism and segregation. "As a secretary for the National Association for the Advancement of Colored People, Parks defends local children who have been victimized by racism. When she is arrested after refusing to give up her bus seat for a white passenger, Parks inspires the 1955 Montgomery Bus Boycott." -Amazon Prime Video
Where to watch: Amazon Prime Video 
Mrs. America (2020)
This series "tells the story of the movement to ratify the Equal Rights Amendment, and the unexpected backlash led by a conservative woman named Phyllis Schlafly, aka "the sweetheart of the silent majority." Through the eyes of the women of the era – both Schlafly and second wave feminists like Gloria Steinem, Betty Friedan, and Shirley Chisholm – the series explores how one of the toughest battlegrounds in the culture wars of the 70s helped give rise to the Moral Majority and forever shifted the political landscape." -Hulu
Where to watch: Hulu 
She's Beautiful When She's Angry (2014)
"A provocative, rousing and often humorous account of the birth of the modern women's liberation movement in the late 1960s through to its contemporary manifestations in the new millennium, direct from the women who lived it. This documentary resurrects the buried history of the outrageous, often brilliant women who founded the modern women's movement from 1966 to 1971." -Amazon Prime Video
Where to watch: Amazon Prime Video
Maya Angelou: And Still I Rise (2017)
This remarkable and unprecedented film celebrates Dr. Maya Angelou by" weaving her words with rare and intimate archival photographs and videos, which paint hidden moments of her exuberant life during some of America's most defining moments. From her upbringing in the Depression-era South to her work with Malcolm X in Ghana, the film takes us on an incredible journey through the life of a true American icon." -Amazon Prime Video
Where to watch: ASU Library, Amazon Prime Video
Chisholm '72: Unbought & Unbossed (2004) 
"A documentary on Brooklyn-based Congresswoman Shirley's Chisholm's 1972 presidential bid. Chisholm was the first African American woman in Congress (1968) and the first woman and African American to seek the nomination for president of the United States." -IMBD
Where to watch: Amazon Prime Video 
Billie Jean King: Portrait of a Pioneer (2006)
"Billie Jean King's dominance in women's tennis in the 1970s brought her to the forefront of the American sports landscape. But it was her role as a symbol for gender equality that made her an international icon. This documentary chronicles the remarkable rise of the tennis legend and provides an intimate look at her private life, including her bisexuality." -HBO
Where to watch: Hulu, HBO or Amazon Prime Video 
LaDonna Harris: Indian 101 (2014)
"A documentary film about Comanche activist LaDonna Harris, who led an extensive life of Native political and social activism, and is now passing on her traditional cultural and leadership values to a new generation of emerging Indigenous leaders." -Amazon Prime Video
Where to watch: ASU Hayden Library
Dolores (2017) 
One of the most important, yet least known activists of our time, Dolores Huerta was an equal partner in founding the first farmworkers union in America. "Tirelessly leading the fight for racial and labor justice, Huerta evolved into one of the most defiant feminists of the 20th century — and she continues the fight to this day, in her late 80s." -PBS
Where to watch: Amanzon Prime and ASU Hayden Library
Iron Jawed Angels (2004)
"The film focuses on the American women's suffrage movement during the 1910s and follows women's suffrage leaders Alice Paul and Lucy Burns as they use peaceful and effective nonviolent strategies, tactics, and dialogues to revolutionize the American feminist movement to grant women the right to vote." -HBO
Where to watch: Hulu, HBO or Amazon Prime Video
North Country (2005) 
This iconic and relevant film highlights the first major successful sexual harassment case in the United States, Jenson vs. Eveleth Mines. Josey Aimesendures a range of abuses while working as a miner in Minnesota. In response, she files, and wins, the landmark 1984 lawsuit, setting a precedent for protecting women in the workplace. 
Where to watch: ASU Hayden, Fletcher and Ross-Blakley Law libraries 
The Color Purple (1985)
A classic of modern literature and film, The Color Purple illustrates the racism and sexism experienced by millions of Black Americans during the 20th century. Based on the novel by Alice Walker, this award winning film is a moving tribute that highlights the importance of strong female companionship and love.  
Where to watch: ASU Hayden and Fletcher Libraries
Real Women Have Curves (2002)
"The story of a first generation Mexican-American girl and her passage to womanhood. Although she wants to go away to college, Ana Garcia must battle against the views of her parents, who think she should stay at home and provide for the family. As a compromise, she works with her mother in a sewing factory over the summer and learns some important lessons about life, helping her make a decision about her future." -HBO
Where to watch: Hulu, HBO or Amazon Prime Video
The Joy Luck Club (1993)
"In San Francisco, a group of aging Chinese women meet regularly to trade familial stories while playing Mahjong. In a series of sixteen short stories. that span generations and continents, this adaptation of Amy Tan's bestselling novel explores cultural conflict and the often-turbulent relationships between four first-generation Chinese-American women and their mothers." -Wikipedia
Where to watch: ASU Hayden and Fletcher Libraries
Thelma and Louise (1991)
An American classic that inspired women everywhere upon its release, Thelma and Louise follows the adventures of two best friends as a short fishing trip becomes a flight from the law. "When Louise shoots and kills a man who tries to rape Thelma at a bar, the pair decide to flee to Mexico. Sympathetic Detective Slocumb tries to convince the two women to surrender before their fates are sealed." -Amazon Prime Video
 Where to watch: Amazon Prime Video