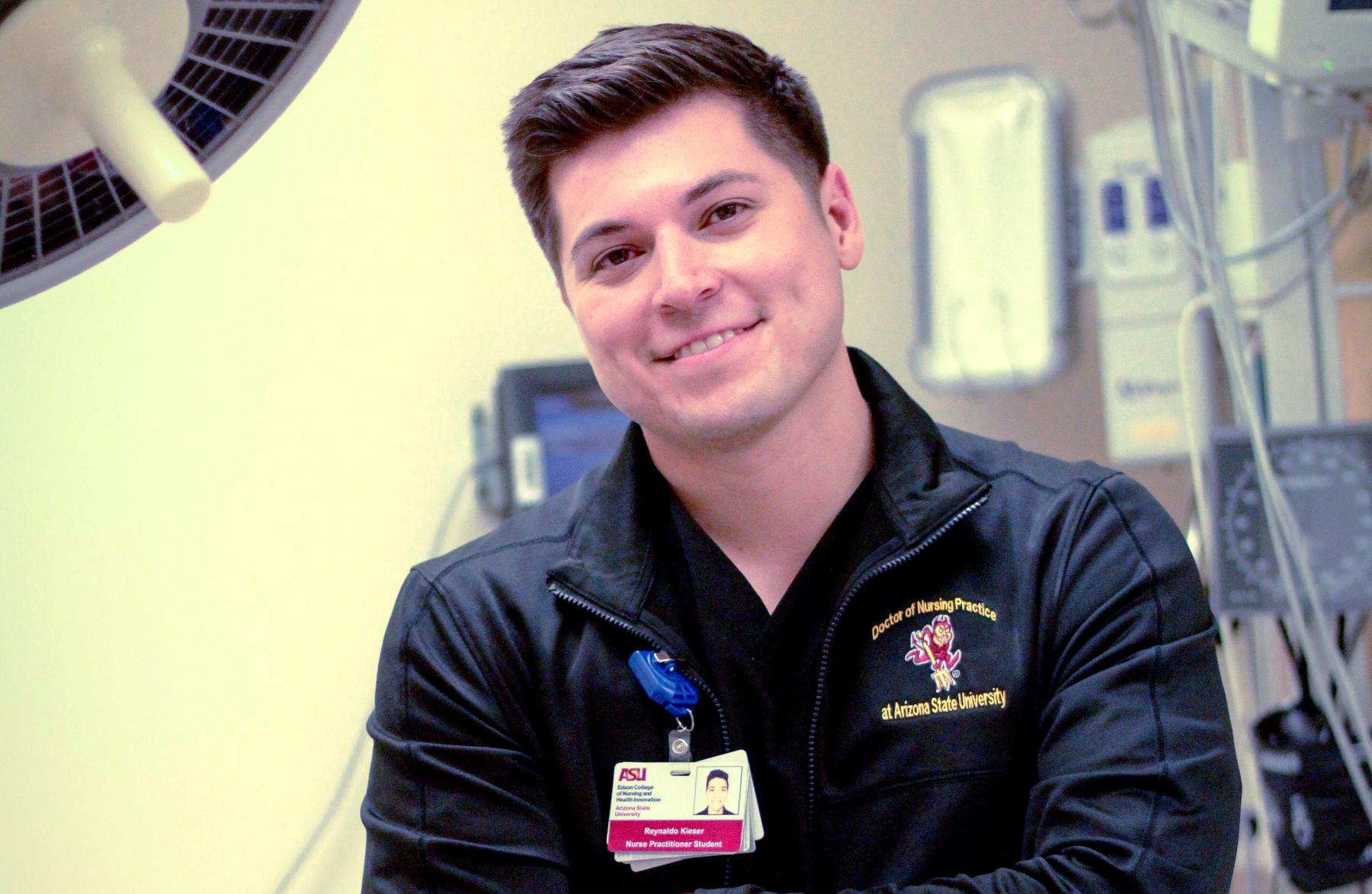 Salute to Service: Reynaldo Kieser is serving as an essential worker on multiple fronts during the COVID-19 pandemic
Reynaldo Kieser has been serving as an essential worker on several fronts throughout the COVID-19 pandemic. As a teacher and health care worker, he is working to keep people safe while educating others to do the same. Simultaneously, he faces the challenges of being a student and husband during a difficult and uncertain time.  
Kieser is a registered nurse completing his doctorate in nursing at ASU and serving as the president of Graduate Nurse Organization. Most recently, he has also been working with a local company to help administer daily COVID-19 tests to its nearly 400 employees.
Being an essential worker during a pandemic
Kieser has been working as a nurse in emergency departments throughout the Valley for the past six years.
While being a nurse has its everyday difficulties, the pandemic has introduced a whole new set of difficult challenges to the field.   
"I think we have this perception that there's so much work for us to do and we're run down to the core. And while that is true for some, for others, we are out of work like everybody else," Kieser said. 
When the pandemic first hit, Kieser said he had trouble getting hours in the emergency department as resources to support staff and sick patients dwindled.   
In order to make money, Kieser began working for a local company, helping to administer daily COVID-19 tests to the company's 400 plus essential workers.
As an essential worker who was in contact daily with potentially sick people, Kieser had worries about bringing the disease home to his husband, Brock Kieser, also an employee at ASU.   
"My husband and I had to have a conversation to decide if I would come back home if I worked with a patient with COVID or if I would stay somewhere else," Kieser said. 
Ultimately, Kieser decided to remove and wash his clothing and shower immediately upon arriving at their home.
Being an essential worker in a pandemic has definitely been trying for Kieser and his family. However, Brock says they haven't been living in fear. 
"He's always been an essential worker. This is just part of his job, his life," Brock said. "And we're here to support each other."   
Graduate studies, teaching, and involvement at ASU 
Kieser's job as a nurse was not the only aspect of his life affected by the pandemic. 
Currently, Kieser is working towards his doctorate in the nursing program at ASU with a dual speciality in family and emergency medicine.
Kieser was just beginning his clinical trials in emergency medicine when the pandemic began. Luckily he was able to get through the clinical trials but many of his fellow students were not. He said he was glad to get exposure to handling a pandemic during his trials so that he knows what to do should something similar happen in the future. 
Kieser is not sure why he became a nurse. He simply chose nursing when he was applying for his undergrad at Baylor University. 
"I selected the drop down buttons for major and I just went to nursing and I have no idea why," Kieser said. "It has seriously been the best decision of my life. This is what I was meant to do."
Kieser has been a nurse for 10 years now and decided to pursue his doctorate as he felt too comfortable in his skill set and wanted to be challenged. 
"It's been really difficult yet enlightening. It's a program, which I'm really passionate about so I'm happy that I'm doing it," Kieser said. "I'll be happy to have my life back at the end of April, but also this has been an awesome program. I've grown so much."
In addition to his studies, Kieser teaches undergraduates at ASU about "Complex Care" and "Transition to Practice."
As a teacher, Kieser is thankful for the interactive technology ASU has offered its nursing students as clinical trials and hands-on training have been cancelled due to the pandemic. However, Kieser is worried about students not being able to work with real patients and has noticed growing anxiety among students.
In response, Kieser and some of his fellow nurses planned a virtual Q&A session for nursing students to help them talk through their anxieties and give them advice about entering the job market during a pandemic and with little hands-on practice.
The event is being hosted by the Graduate Nurse Organization, of which Kieser is president. The organization represents all graduate nurses at ASU and acts as a facilitator to help staff graduate nurses in the community.  
Helping health care providers identify sex trafficking victims
On top of his other responsibilities, Kieser is also working on a project that will help educate health care providers on how to identify sex trafficing victims. The educational material he is developing is crucial in teaching emergency departments how to spot red flags, how to report and how to intervene. 
"We found that less than 5% of emergency department staff really know how to identify and how to report trafficking victims and that's throughout the nation, which is an alarming number," Kieser said. 
The pandemic has led to an increase in human trafficking according to Kieser, making his educational material more relevant and important than ever. 
"With COVID going on we're seeing sex trafficking rates go through the roof," Kieser said. "Now that all of us are at home more often and kids are online for school, sex traffickers are able to use social media and other online avenues to reach more potential victims."
Kieser's goal is to increase awareness of human trafficking through education. He hopes to begin disseminating his educational material in November and begin measuring if it has an impact on staff knowledge, competence and identification of sex trafficking victims.   
Honoring Essential Workers
Each year, ASU honors veterans and service members during November as part of the university's Salute to Service tradition. This year, the university  has also decided to honor those serving on the frontlines of the COVID-19 pandemic, such as first responders, doctors, teachers, nurses and more.
Brock Kieser said he was really happy with ASU's decision to honor essential workers like his husband during this year's Salute to Service. 
"I'm really happy that they have decided to acknowledge the work that essential workers are doing," Brock Kieser said. "They do so much for the health of our population and so I think it's really great that ASU is acknowledging them, especially in the midst of a global pandemic."
The Graduate College is proud to honor Kieser as a graduate student and an essential worker. We thank him for his service to our community.