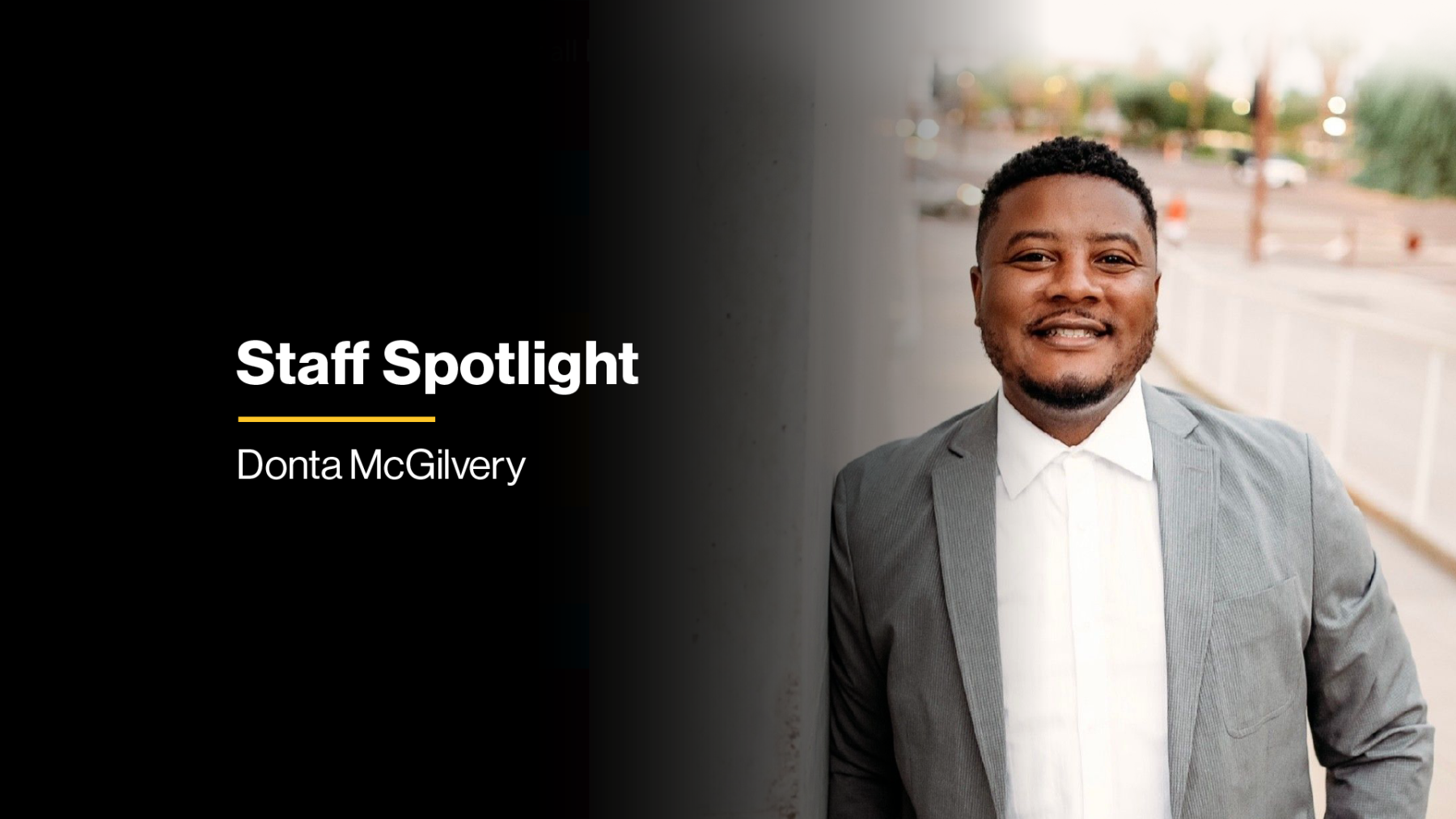 Staff Spotlight: Dontá McGilvery
---
My name is Donta McGilvery, PhD, and I serve as the Coordinator of Graduate Experience on the Graduate College's Professional Development and Engagement team. At the Graduate College, I onboard new graduate students to the ASU community. Primarily working with the Presidential Scholars community of Presidential Graduate Assistants and Presidential Postdoctoral Fellows (programs which arise from President Michael Crow's L.I.F.T. Initiatives), I create initiatives, opportunities for scholars to network, classes, and programs to help connect graduate students with resources available to them academically and professionally.
Earlier this month, I was invited to meet with Kelvin Beachum, the offensive tackle for the Arizona Cardinals. When I arrived, I was caught off guard by the camera and microphone setup. After discussing my plans for Super Bowl Sunday, Kelvin surprised me by informing me that the National Football League Foundation wants to honor me with two free tickets to the Super Bowl! I was selected to receive the tickets because of the justice and equity-oriented work I have engaged in-which includes teaching youth about civil rights and equality. More specifically, I was honored for advocating for marginalized people in the voting process, higher education and my work inside and outside of my church.
You may be wondering what I've done to qualify to receive such coveted tickets. While I find it difficult to discuss my resumé, it allows me to share a fraction of how I engage in "the work [my] soul must have" (as Dr. Katie Cannon would say).
Here's a list of my work within the last six years:
Summer 2016:

I taught elementary mathematics in both Phoenix and Mesa. During that time, I used my love for theater to enrich students' understanding of math and why it's essential.

February 2017:

I was accepted into Arizona State University's Theatre program. I started my PhD program in August 2017.

Fall 2018:

Claire Redfield (an MFA student at the time) and I received a seed grant to start our own community-based theater program called

Sleeveless Acts

.

Fall 2019:

I created the first (with help and approval from Dean, Steven Tepper) Dean's Leadership Fellowship and I became the inaugural fellow. This one-year fellowship taught me what it means to work in high-level administrative roles by interviewing and shadowing various deans, directors, and college presidents from many colleges and universities.

Spring 2019:

I received the ASU Martin Luther King, Jr. Servant-Leadership Award for

Using My Voice to Help Those Who Are Struggling

.

Spring 2019-2023:

I taught Civil Rights history to middle and high school students attending the ASU March on West. 

Summer 2020:

I started the

Music, Dance & Theatre Liberation Coalition

—a moral fusion coalition of graduate students in the design and arts at ASU. The coalition wrote a List of Demands to inform and assist the Herberger Institute practices and policies that lead to equity, especially among Black and Brown students and other marginalized groups throughout ASU. We held town halls, Diversity Equity and Inclusion training sessions and we collaborated with student organizations to fight for equity and justice.

Fall 2020:

I was hired by the Herberger Institute for Design and Arts to help develop the school's first Culture and Access department. 

Created,

Shifting the Gaze,

an in-house arts-based journal designed to offer critiques on race, equity, justice, diversity and inclusion to leaders across the Herberger Institute. The purpose of Shifting the Gaze is to assist the Herberger Institute team in refocusing from the White gaze and moving toward setting sights on news and events surrounding BIPOC communities. In this monthly journal, I interviewed subjects that highlight the beauty of diversity.

Fall 2020:

I was selected by ASU president, Michael Crow, to serve on the Advisory Council on African American Affairs to execute the

L.I.F.T. Initiative

. 

Fall 2020:

I created and taught a

3-day Theatre/Theological Studies course for Princeton Theological Seminary's Black Church Studies program

.

Fall 2021:

I

became A Trailblazer for Black Theatre

by being the first Black male to earn the PhD in Theatre for Youth and Community from ASU. 

I was honored by ASU's Herberger Institute with the Most Outstanding Graduate Student in the area of Community Outreach.

Spring 2022:

I co-published a chapter, along with Claire Redfield, reflecting on our experiences teaching  theatre for and with youth in the Eastlake Park community. Our experiences, teaching methods, and pedagogical approach are captured in:

McAvoy, Mary and O' Connor, Peter. 2022. "Little Red and the Wolf."

The Routledge

Companion to Drama in Education

.

Routledge.  

Fall 2022:

I was hired as the inaugural Theatre Artist in-Residency at Princeton Theological Seminary's Black Theology and Leadership Institute. 

Spring 2023:

I gave the "I Have A Dream Speech," with Charles Sin Claire to a thousand middle and high school students at the March on ASU West. 
Community involvement
March 2018: Took my third pilgrimage across the United States Southland studying the American Civil Rights movement, meeting foot soldiers of the movement, and visiting historic landmarks. I wrote about my experience in the chapter entitled,

Scenario Performances Observed on the SMU Civil Rights Pilgrimage

; which can be read at no cost in the iBook,

Great Debates of American Civil Rights (2018)

. 

June 2019: Through the  Sleeveless Acts theatre company that I co-founded, we host an annual community-based theatre production called "Celebration Eastlake". This production

combines art and activism to celebrate the history, heritage, and people

who have made an impact in the Eastlake Park community.

In our 2019 and 2020 production of "Celebration Eastlake", we honored the life and legacy of longtime City Councilman and Civil Rights leader, Calvin C. Goode. Goode passed away shortly after on December 23, 2020. 

August 2019:

I was a co-convener of the

1619 Commemoration of 400 years since enslaved Africans were brought to the Americas.

Which was the only public celebration commemorating this history.

June 2020:

I created and launched a Civil Rights Monologue and Pilgrimage course for students in grades 3 to12. The class consisted of 24 students from Arizona, California and Texas. The 4-day course took students on a virtual tour of the U.S. southland, studying the history of the civil rights movement and historic landmarks.

July 2021.

I defended my dissertation and in the same week, was detained along with the Rev. Jesse Jackson, Rev. Dr. William J. Barber, Barara Arnwine and others for

practicing civil disobedience outside Senator Kyrsten Sinema's office in a protest to end the filibuster. 

January 2022:

I was hired as the Pastor of Outreach and Justice for First Institutional Baptist Church.

I joined the Graduate College as Coordinator for Graduate Student Experience. 

I joined Martin Luther King III, his wife, Arndrea Waters King and their daughter, Yolanda Renee King in a peaceful demonstration in Phoenix to speak against the filibuster.

February 2022:

I served on a committee with Rev. Al Sharpton and his National Action Network to plan the 57th anniversary of the Selma to Montgomery march. 

I was named "One to keep your eyes on" by The Greater Phoenix Urban League Young Professionals. 

Fall 2022:

I led two state-wide organizations to help increase the Black voter turnout across Arizona:

Black Voters Matter

and (co-chaired)

Faiths United to Save Democracy

. 
January 2023:

I convened a diverse panel of experts for "Black Liberation in Arizona:
---
Super Bowl LVII - State Farm Stadium | Glendale, AZ - February 12, 2023
Enjoying the Big Game with my wife!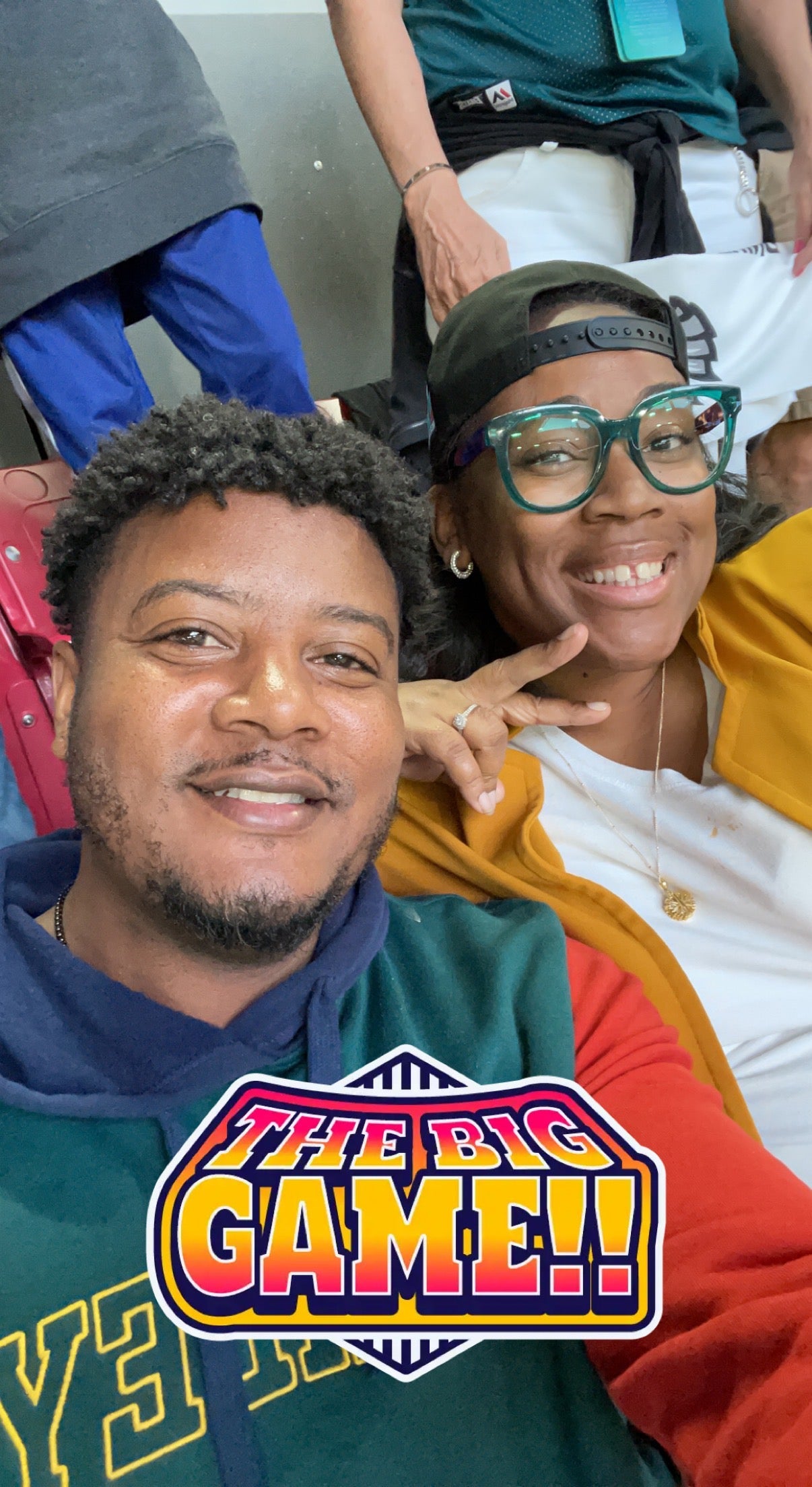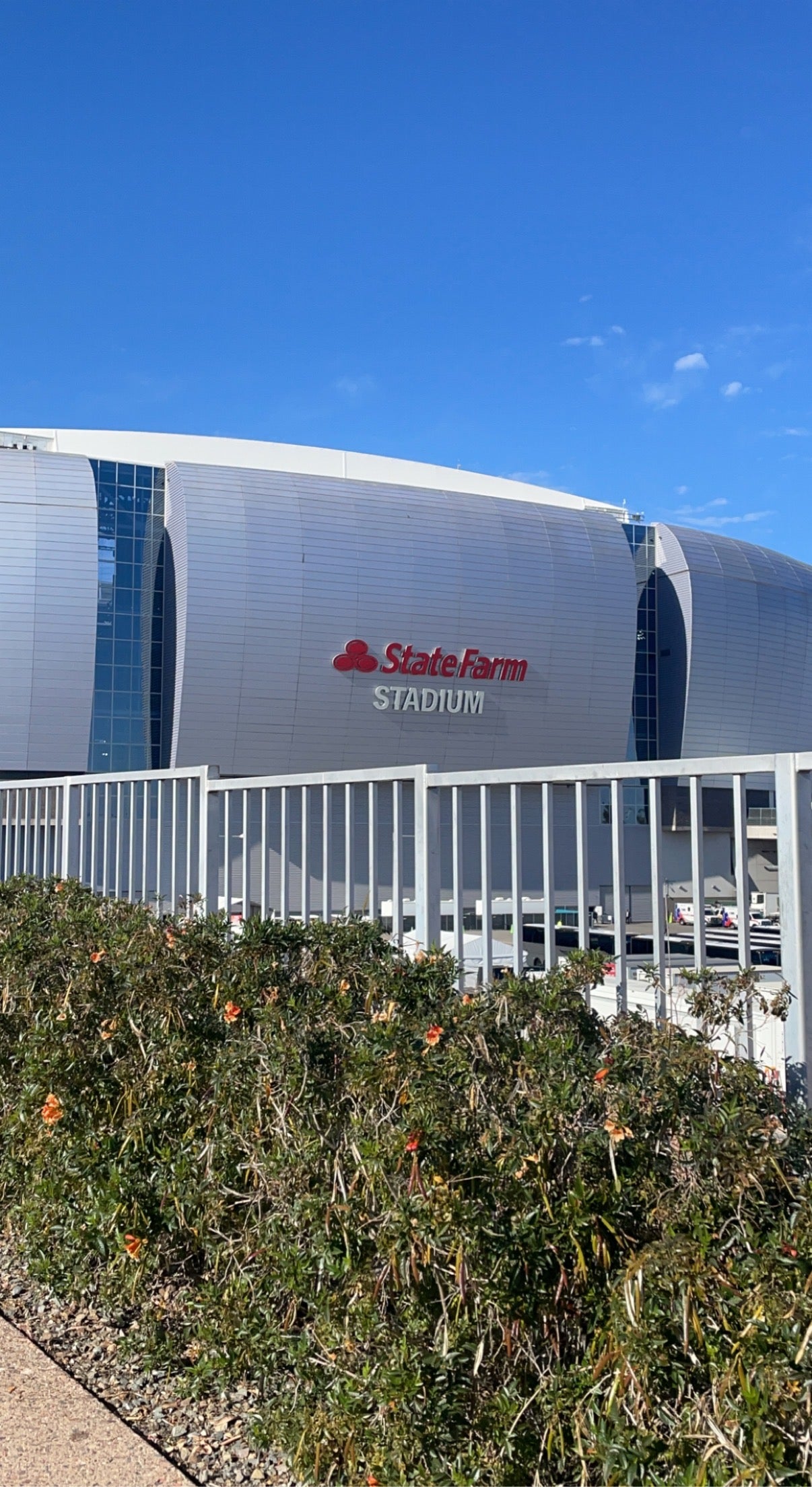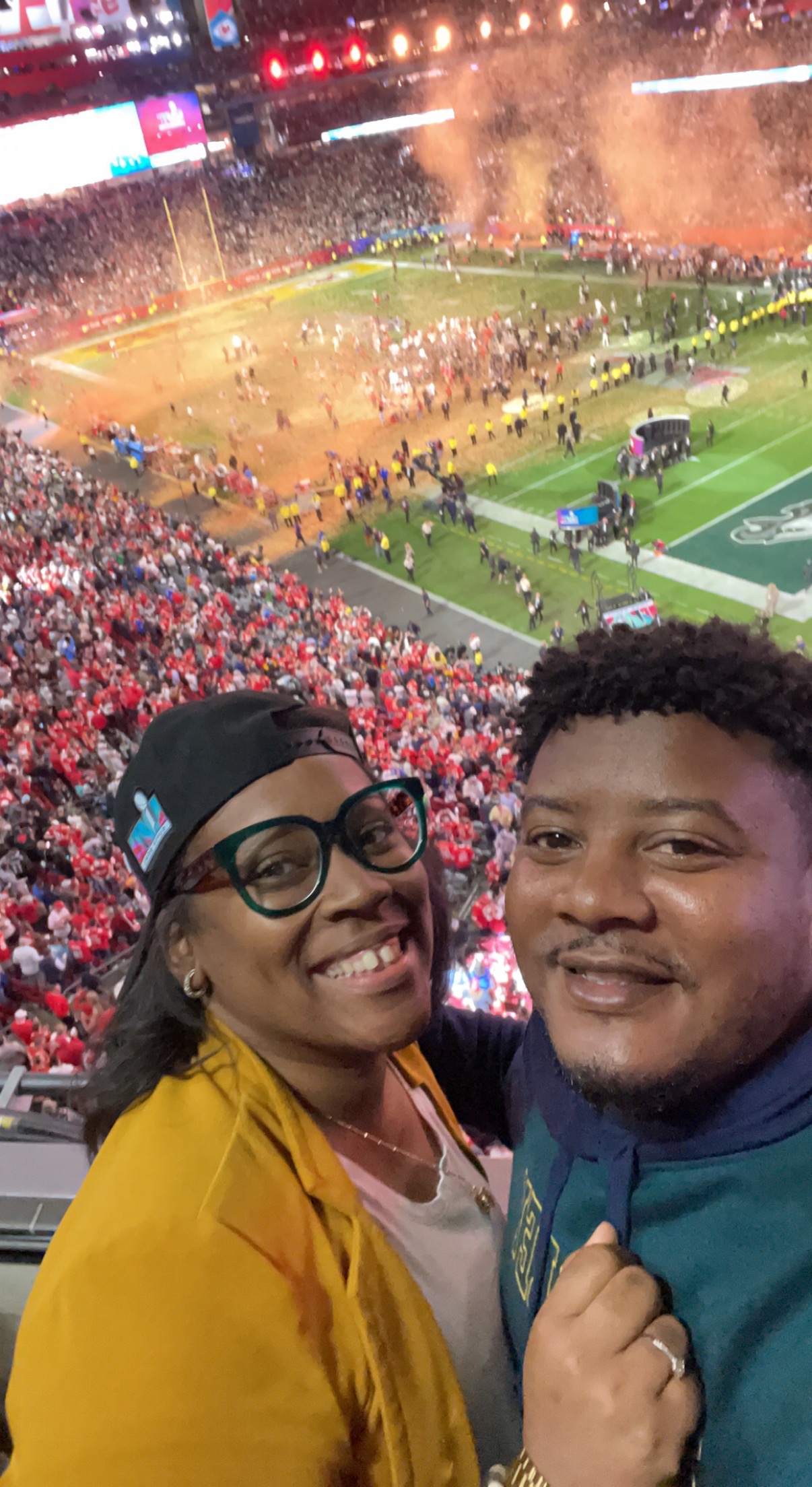 Written by Dontá McGilvery, edited by Marjani Hawkins