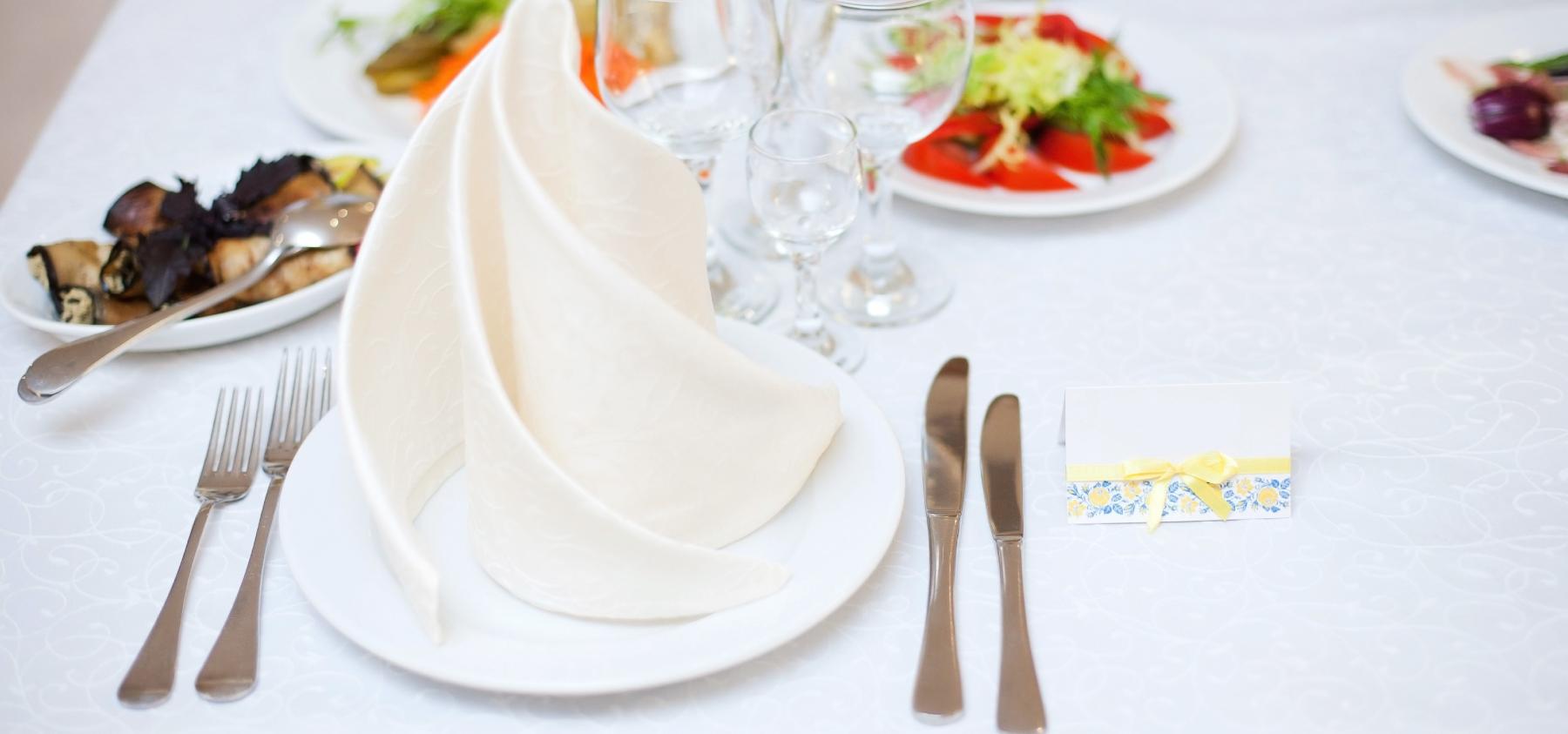 Dinner interview etiquette tips for graduate students and postdocs
A common professional-social situation that you might find yourself in as a graduate student or postdoc is meeting with peers, professors, or interview committees over lunch, dinner, or happy hour. At PFx, the Preparing Future Faculty and Scholars program, we know that even when the gathering is friendly, and the stakes low, professional-social situations can produce stress and anxiety. When paired with professional pressures like interviewing or presenting yourself as a competent colleague, such things as engaging in small talk, knowing which fork to use with your salad, or figuring out the best food choice can mess with your confidence and magnify common social anxieties. 
Giving some thought to professional dinner and interview etiquette in advance can help alleviate some of these stressors. Melissa Werner, an ASU etiquette expert offers the following tips at Graduate College Professional Etiquette Dinners: 
Before the event 
Practice appropriate etiquette even before attending. RSVP to invitations promptly and mark the time and date of the event on your calendar. When given the option, Werner explains that you should "always provide an RSVP even if you don't plan to attend. This allows the host to have an accurate accounting of guests." Once you've confirmed your attendance, the host is expecting you, so if an emergency arises and you are unable to attend, notify the host as soon as possible. A cancellation is easily forgotten, but a 'no show' leaves a lasting bad impression. 
You have arrived 
Arrive on time. Be prompt or better yet, arrive a few minutes early to thank the host for inviting you. In larger social gatherings, after you've spoken with the host, head to a drink station and grab yourself something to drink; it will give you something to do with your hands and provide you an opportunity to introduce yourself to others in line. When ordering alcohol, know your limits and keep your consumption under two glasses. 
Think of small talk as a way to get to know one another rather than meaningless conversation. Ask questions or offer information about favorite local restaurants, nearby hiking trails, recently read books, or potential shared hobbies. When asking a question, be ready to provide your own answers. Finally, avoid conversations about politics or controversial subjects that may alienate others. 
  Getting comfortable 
Place large bags in the floor near your feet. Avoid hanging them off your chair or placing them to the side of the chair, as they may pose potential tripping hazards. Place a small bag or personal items in your lap under your napkin. 
Make eye contact and introduce yourself to each person around the table. In U.S. culture, it is customary to shake hands, but it's impolite to reach across the table, so shake hands prior to sitting. If you prefer not to shake hands altogether, it is acceptable to place your hand over your heart and offer a warm greeting. 
Know your way around a formal place setting.2 The setting is arranged from left to right, bread, meal, water. The forks to the left of your plate, in this order, are fish, dinner, and salad fork. While the utensils to the right of the plate, from right to left are cocktail fork, soup spoon, fish, dinner, and salad knife. At the top of your plate you'll find the dessert spoon and fork. 
 Let's eat 
Avoid messy or difficult to eat foods. Choose foods that are easy to manage with a knife and fork. Now is not the time to order something new or exotic – stick with foods you're certain to like. If you're uncertain about ordering an appetizer, alcoholic beverage, or expensive entrée, take your cue from the host. If you don't drink alcohol, however, don't feel pressured to order an alcoholic beverage or explain your preference. 
Butter your bread on the plate, not in your hand. Again, your bread plate is always to your left. To butter your roll, break off a bite-size piece of bread, lay it down on the plate, and use your butter knife to spread a bit of butter on the bread. 
Practice good manners. Wait until everyone at the table has been served before beginning to eat. Avoid talking with your mouth full and don't chew with your mouth open. Ask to be passed any condiments or seasonings rather than reaching across the table for them yourself. And, avoid gesturing while holding your utensils. 
 Afterword 
Follow up. After attending, send a thank you note to the host. Handwritten notes are nice, but an email may be just as appropriate. Don't forget to also reach out to the others, who you met and created a reason to follow up with. 
Want to learn even more about professional etiquette? Attend a future Graduate College Professional Etiquette Dinner and enroll in the PFx Fall 2020 A and B session courses. 
1.    Preparing Future Faculty and Scholars is a program designed to help doctoral and MFA students and postdoctoral fellows transition successfully into faculty and nonfaculty careers. PFx provides an insider's look at job material preparation, diverse career outcomes, and career development and self-assessment tools and resources. Visit the Preparing Future Faculty and Scholars PFx program website to learn more. 
2.     Johnson, Dorothea. The Little Book of Etiquette. Philadelphia, Running Press, 2010.