Outstanding Faculty Mentors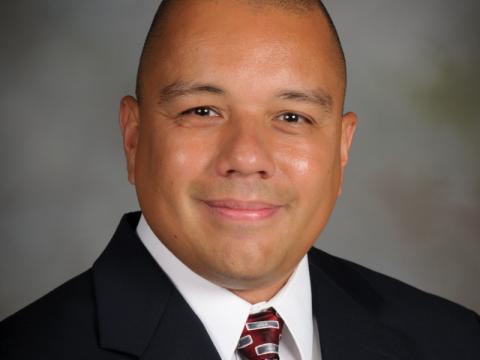 Anthony Peguero
School of Criminology and Criminal Justice, Watts College of Public Service and Community Solutions
---
Biography
Anthony A. Peguero is a Professor of Sociology and Criminology in the T. Denny Sanford School of Social and Family Dynamics and School of Criminology and Criminal Justice at Arizona State University and the Director of the Laboratory for the Study of Youth Inequality and Justice. His research interests involve youth violence, socialization and marginalization, schools, and the adaptation of the children of immigrants. Dr. Peguero is also a member of Latina/o/x Criminology and Racial Democracy, Crime, and Justice Network which hold the goals of advancing research on the intersection of race, crime, equity, and justice, of promoting racial democracy within the study of these issues by also supporting early-career scholars from under-represented groups.
Mentoring Philosophy
Being an effective mentor is an essential characteristic towards being a strong scholar. As a mentor throughout my career, I emphasize to my mentees to never forget who they "represent" in regards to the social problems (and the marginalized people impacted by this social problem) as well as their family, community, and themselves. Being a strong and thoughtful scholar reflects mentorship and a community of support in all regards. As a social scientist, it is imperative to acknowledge, learn, investigate, teach, and disseminate different sociological and cultural views of the social world with one another. I try to instill through my mentoring that it is "our" responsibility as social scientists to foster an environment that promotes an open dialogue in the classroom, the academy, and provide-evidence based research to stakeholders and practitioners. In addition, mentoring and facilitating the success of underrepresented early career scholars (i.e., undergraduate and graduate students, postdoctoral scholars, and assistant professors) is of the utmost importance. I have tried to pursue this mentoring effort in three ways. 
First, as Director of the Laboratory for the Study of Youth Inequality and Justice, I have funded and collaborated with underrepresented early career scholars on lab research projects at prior institutions and here at ASU. The lab is dedicated to examining the correlates, disparities, consequences, interventions, and policies for underserved and minoritized youth. The lab addresses questions related to three broad categories within the study of youth inequality, violence, vulnerability, and marginalization: Foundational issues include the dynamics of youth socialization, education, and environment; Enduring challenges include concentrated poverty and concentrated affluence; discrimination; urban, suburban, and rural processes; and, trends in immigration and other demographic population shifts; and Contemporary challenges include evolving family structures; educational resources and standardization; the school to prison pipeline; stop and frisk justice practices; and, shifting definitions of citizenship.  
Second, as an executive board member of the Racial Democracy, Crime, and Justice Network and co-founder of the Latina/o/x Criminology, I have contributed to the advancement of research by underrepresented junior scholars on the intersections of race, crime, and justice. As a research mentor, it is important to advise, guide, and work along with early career scholars in developing their critical thinking and research skills. I also believe that co-authoring with early career scholars is a vital aspect of mentoring. These collaborations have resulted in over forty research manuscripts that are published, forthcoming, or currently under review. More importantly, most of the early career scholars I collaborate with are underrepresented. These efforts are often reflective of institutional goals, including ASU, in regards to institutionalizing structures to promote sustainable transformation; increasing faculty, staff, and student diversity; and advancing the academic, research, teaching, and service mission through inclusive excellence. 
Third and finally, as a mentor for two current ASU Postdoctoral Scholars (i.e., Krystlelynn Caraballo and Kay Varela), I have taken on this responsibility of advising their progress and success incredibly seriously. One of the most important aspects of transitioning from a doctoral student to postdoc to assistant professor is to have information to make thoughtful career decisions. As I look back in my own career path as a Latino scholar who had similar and difficult transitions from a doctoral student to postdoc to assistant professor, I realize and understand how the intersection of racism, sexism, and elitism can manifest itself in academia. I try to make transparent for all the early career scholars I mentor. I do this with readings, sharing my own stories, facilitating connections with other minoritized scholars who have been able successfully navigate academia, and by fostering safe spaces that can provide a place for early career scholars to vent, ask for advice, and be supportive and encouraging of one another. It has become incredibly clear to me that we have to lookout for each other for all of us to succeed and be healthy.