Outstanding Faculty Mentors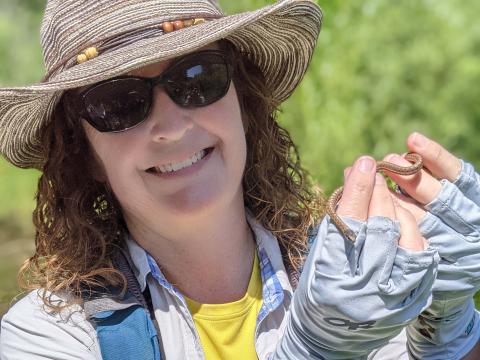 Heather Bateman
Associate Professor, Science & Mathematics, College of Integrative Sciences and Arts
---
Biography
Heather Bateman, PhD is an Associate Professor at in the College of Integrative Sciences and Arts (CISA) where she teaches and mentors students in applied wildlife ecology. Dr. Bateman is a wildlife ecologist with research interests in exploring wildlife responses to habitat alteration, with a particular focus on amphibians, reptiles, and birds. Additional research avenues include exploring urban ecology and the social-ecological factors predicting human-wildlife interactions. Dr. Bateman teaches herpetology and ornithology where students conduct research and participate on field trips. Dr. Bateman mentors undergraduate and Master's graduate students in wildlife ecology and is the recipient of the 2021-2022 Outstanding Master's Mentor Award at Arizona State University and has been recognized for student mentoring by professional societies including the Arizona Chapter of the Wildlife Society. Dr. Bateman has authored over 50 articles of which 40% are led by student mentees.
Mentoring Philosophy
As a wildlife ecologist, I mentor students pursuing applied questions through field-based inquiry. My goals are to teach graduate students ways to integrate aspects of discovery and curiosity with hands-on experience so mentees can achieve real-world application in conservation.
Record of graduate mentoring
I am committed to graduate student research and success. I teach research techniques and analyses for graduate students as the required graduate course in our unit. This course provides students an essential foundation of multivariate tools as they begin their thesis research. I work closely with students in my research group to complete their MS with experiences that will enable them to move into STEM career paths. All of the 13 completed MS students from my research group have careers in their chosen field of biology and all theses have been published or submitted for review. My scholarship includes over 50 journal articles and 40% are led by students/mentees. My commitment to students and quality of mentoring has been recognized by awards from my college (2018), professional society AZ Chapter of the Wildlife Society (2016), and students have thrice nominated me for the OFMA (2018, 2019, 2021).
Commitment to inclusion
ASU's Charter states that we are "measured not by whom we exclude, but rather whom we include and how they succeed." I am committed to creating spaces where underrepresented individuals in science feel included and respected. I maintain a small but high-quality and diverse team of student scholars. I strive to create spaces where underrepresented individuals in science feel included and respected. I recruit and mentor graduate students from underrepresented groups. I utilize a collaborative team-based approach where we build off and learn from one another's strengths and experiences. We maintain weekly one-on-one meetings to address individual challenges and project-specific direction. As an active member of The Wildlife Society WOW (women of wildlife), my students and I have presented on work-life balance, out in the field (LGBTQIA awareness outdoors), and inclusion in natural resources.
Remain flexible
During 2020-2021, under the greatest disruption to education ever seen, I worked hard to bring flexibility and compassion to students impacted by the COVID pandemic. I involved students in decisions about modifications to projects and brought empathy and concern as we transitioned to engaging online. We swapped in-person lab meetings for Zoom meetings and invited guests to share their professional experiences about resilience. We engaged in candid conversations with our guests about how they handled learning disabilities, environmental crises of species extinctions, and being side-lined in careers for taking a stand to support what was best for their community. This was a rough time for many students. We spent our time together sharing ways to keep motivated and allowing self-care to take priority when needed. Graduate school can be a time of great joy and can also be stressful when deadlines are looming and solutions needed to resolve unplanned pandemic situations. I believe it is important to not assume what hardships students are facing, and allow students to express difficulties without feeling belittled. All researchers can experience the unexpected. Fieldwork, in particular, can be unpredictable. I have seen projects affected by flood and others by fire. Observing colleagues dealing with unplanned challenges, teaches graduate students flexibility and they gain the perspective needed to endure multi-year projects.
Don't forget to have fun
As wildlife ecologists, we work in some of the most inspiring outdoor settings, study fascinating and rare organisms. Every student experiences aspects of the field for the first time during research – just as I did when I was in their boots. You never forget the first time you see a Gila Monster in the wild or experience monsoon storms on a summer camping trip! These are remarkable memories. I try to instill the passion I have, that made me want to become a wildlife biologist, in students. I do not deny that our work is physically challenging, but I am thankful for the ability to pursue my passion. I allow students to be amazed, to be curious, to be safe, and to have a time they can fondly reflect upon later in their careers. The experiences of today will be the reminders of why they became biologists.
The achievements of which I am most proud are those successes from students. Their talent, their ability to overcome adversities, and their perseverance inspires me – and this is my great joy of being a mentor.