Outstanding Faculty Mentors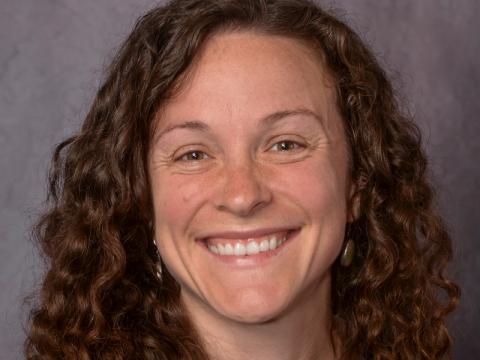 Jada Ach
College of Integrative Sciences and Arts
---
Biography
Ach is an Assistant Teaching Professor in the Faculty of Leadership and Integrative Studies where she teaches courses in the Interdisciplinary Studies and Master of Liberal Studies programs. In 2019, Ach earned her doctorate in American literature with an emphasis in critical theory from the University of South Carolina. Her research often combines insights from literary studies, the desert humanities, infrastructure and maintenance studies, animal studies, and environmental history. Ach is the author of Sand, Water, Salt: Managing the Elements in Literature of the American West, 1880-1925 (2021) and co-editor of Reading Aridity in Western American Literature (2020). Since 2005, Ach has enjoyed teaching courses in creative writing, rhetoric and composition, interdisciplinary studies, literature, and the environmental humanities. 
Mentor Philosophy
As a mentor to students in ASU's Master of Liberal Studies (MLSt) program, my goal is to create a safe space where students feel inspired to integrate ideas, experiment with new theories and forms, and explore new research methods. It is important for graduate students to find their own voice and take creative and scholarly risks; this is especially true in the MLSt program where students engage in interdisciplinary and transdisciplinary approaches to meaning-making. In order to effectively engage with and motivate students in our online program, instructors and mentors must be flexible, intellectually curious, and attuned to our students' diverse scholarly and creative interests. It is in this messy-but-generative environment where I thrive as a mentor.
Given my background in English and creative writing, I use the model of the writing workshop when helping graduate students to develop creative, academic, and professional projects. The workshop, as I conceptualize it, is a judgment-free zone where student-creators feel motivated to share their works-in-progress, engage in ongoing dialogues about the creative process, and collaborate on new directions that can be taken to develop a project. My role as a mentor is to individually guide students through their own unique creative processes, providing them with moments to play, take risks, and integrate rhetorical and methodological tools that align with their values and interests. In the workshop environment I try to create with my mentees, students are not merely editing or revising their work; instead, it is my hope that they are learning to take ownership of their projects and are continuing to discover their unique situatedness as meaning-makers. Seeing students find their own voice during the workshopping/mentoring process is extremely gratifying and motivates me to continue creating spaces where they can flourish. This workshopping process generates mutual respect and trust, and from that firm foundation I hope students feel safe to explore new ideas.
Furthermore, I view mentoring as a collaborative endeavor, one where students and instructors work together to achieve a common goal. When I first begin working with a student, the most important thing I can do as a mentor is to listen. By learning what it is the student wants to achieve—and paying attention to the kinds of stylistic, philosophical, or methodological approaches they find most valuable—I am able to then point them down different paths of possibility. For example, when one of my MLS 503 students met with me to discuss a problem-solution research project, I could hear that "the formal research voice" frustrated her. The student wanted to write about health insurance reform and education, but, as a writer of creative nonfiction, she wasn't sure if creative writing or storytelling counted as "research." As a result, she first approached the project in a voice that felt very distant from her own. By encouraging this student to use stories as the foundation for her research project—and reminding her that individuals' own experiences were valid forms of primary evidence—the student ended up producing a final paper that aligned with her artistic and ethical vision. Students in the MLSt program choose our program due to their range of interests in the humanities, social sciences, and arts. Through mentoring, I try to help my students see the value, uniqueness, and power of their innovative, discipline-crossing productions. At the end of the term, this student felt empowered by the possibilities of creative/narrative-based research practices and asked me to act as their mentor on their upcoming Applied Project. I look forward to continuing to work with this student as she develops new writerly tools and insights.
In sum, relationship-building is central to my mentoring philosophy. By listening to students—which involves responding to their needs, pointing out various paths of possibility and providing them with ample models and examples, and, when possible, putting them in touch with scholars and artists in their fields of interest—I want them to see that their unique creative visions are both valuable and necessary.