Outstanding Faculty Mentors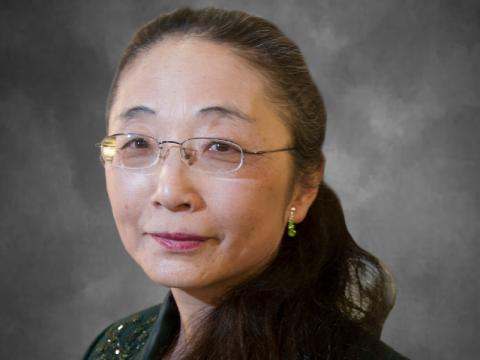 Wei Li
School of Geographical Sciences and Urban Planning and School of Social Transformation, The College of Liberal Arts and Sciences
---
Biography
Wei Li received her geography B.S. and M.S. degrees in Beijing, China; and her Ph.D. in geography at the University of Southern California. She is Professor at the Asian Pacific American Studies / School of Social Transformation, and School of Geographical Sciences and Urban Planning in Arizona State University. Her foci of research are migration and integration, and transnational connections, focusing on the Indo-Pacific Region. She is the author,  [co-]editor and [co-]translator of seven scholarly books, four journal theme issues, and has 157 other academic publications. Her research has been funded by the National Science Foundation (four grants), Canadian Government (three grants), Fulbright Foundation (twice), Rockefeller Foundation, and The National Bureau of Asian Research and Woodrow Wilson International Center for Scholars, among other internal grants. She has recently been awarded as an AAG Fellow, by the American Association of Geographers (AAG); and the Outstanding Faculty Mentor Award for Doctoral Students, by ASU Graduate College; she was previously the recipient of Outstanding Faculty Mentor Award, ASU Faculty Women's Association (2015), AAG Ronald F. Abler Distinguished Service Honors (2014), Distinguished Ethnic Geography CAREER Award (2013), Distinguished Scholar Award, Ethnic Geography Specialty Group (2012), and the 2009 Book Award in Social Sciences, Association for Asian American Studies (2011). She serves as Vice Chair (2004-2010) and the Chair (2010-2012) of the U.S. Census Bureau's Race and Ethnic Advisory Committees (REAC) on the Asian Population; member of the International Steering Committee for the International Metropolis Project since 2008; the North American Director for the International Society of Studying Chinese Overseas (2010-2025), and a National Councilor of the American Association of Geographers (2019-2022). 
Mentor Philosophy
Positionality
As a female racial minority immigrant professor, I used to believe the U.S. is a truly meritorious country. I therefore fitted myself right into the 'model minority' stereotype about Asian Americans—work hard, lay low, and let my record speak for itself. Yet years of trials and tribulations made me realize the critical importance of leadership and mentorship.
My personal and professional experiences relate well to minority and women scholars who need to overcome self-doubt and structural challenges in their attempt to thrive in academia as they often face microaggression and find it difficult to break through the glass- or 'bamboo'- ceilings in career development; and to international students (and foreign-born faculty) who struggle to learn a new language and to survive in a foreign land as they face more challenges in articulating their ideas, on top of the need to overcome immigration obstacles that are financially and mentally draining.
Mentoring Philosophy
Mine is based on the combination of American and Chinese teaching. To sum up, be respectful of who they are, setting mentoring strategies apart; be caring of what they need, be the first they're willing to share indeed
The first line, adopted from the Chinese original (因人而异,因才施教), is built upon the thousands-year-old Chinese mentoring philosophy, reportedly first successfully implemented by Confucius himself in ancient China.
I engage students of all backgrounds in the learning process while developing tailored mentoring for students from disadvantaged backgrounds. My mentoring goals is to equip students with scientific knowledge and encourage them to respect different perspectives in order to become global citizens. I am highly committed to engaging and mentoring students with success individually, and for the disadvantaged communities in academia whose needs are not currently prioritized at institutional and academic field levels.
The second line means to genuinely care for mentees' needs as a whole human being, i.e. tending to their academic career and life experiences, in hoping I am the first that they would consider sharing their challenges and thoughts with.
Specifically, my approaches are:
Fairness and openness—are core principles. I respect all students' passion and conviction of research and learning, and their career goals and trajectory. It is my duty to assist/guide them to fully reach their potentials and to develop a sense of belonging. I am transparent with my expectations and evaluations of their work.
Starting early on—waiting until students reaching PhD level would be too late as we would have already lost many students, especially those from underrepresented groups and first-generation college students with great potentials to change academia. My mentoring philosophy is to start early from undergraduate students, identifying students who are committed to learning and possibly serve as role models with future students of similar background and beyond. I therefore involve them in research projects, leadership training within and beyond classroom setting.
Critical thinking—is vital for students to learn and practice in college and beyond. I train my students to equip with various theoretical streams and think about big picture. At critical junctures, I provide crucial guidance on how their thinking process can take to the next level.
Collaboration and grant seeking—I aim to involve PhD students in my research projects and co-writing publications with them as a training for future collaborations in their own career. I directly involve them in the entire process of my NSF proposal writing and revision, so that they are prepared to submit their own proposals once graduated.
International network, public engagement, and broader impacts—led by example, I encourage students to build a strong international network and engage in public discourse as today's challenges/issues are often global in nature and influenced by public policies. I believe in the value of making positive societal impact with our academic work through community and public service, and encourage while providing opportunities for students to do so as well.
Wellbeing and career development—I attend to students' wellbeing in addition to their study program by learning what's going on in their lives and if there is anything that I can assist to overcome the challenges they are facing, including but not limited to physical and mental health. My mentoring program is a holistic one: from they enter to the study program, to job search, to after their graduation and becoming professionals themselves.