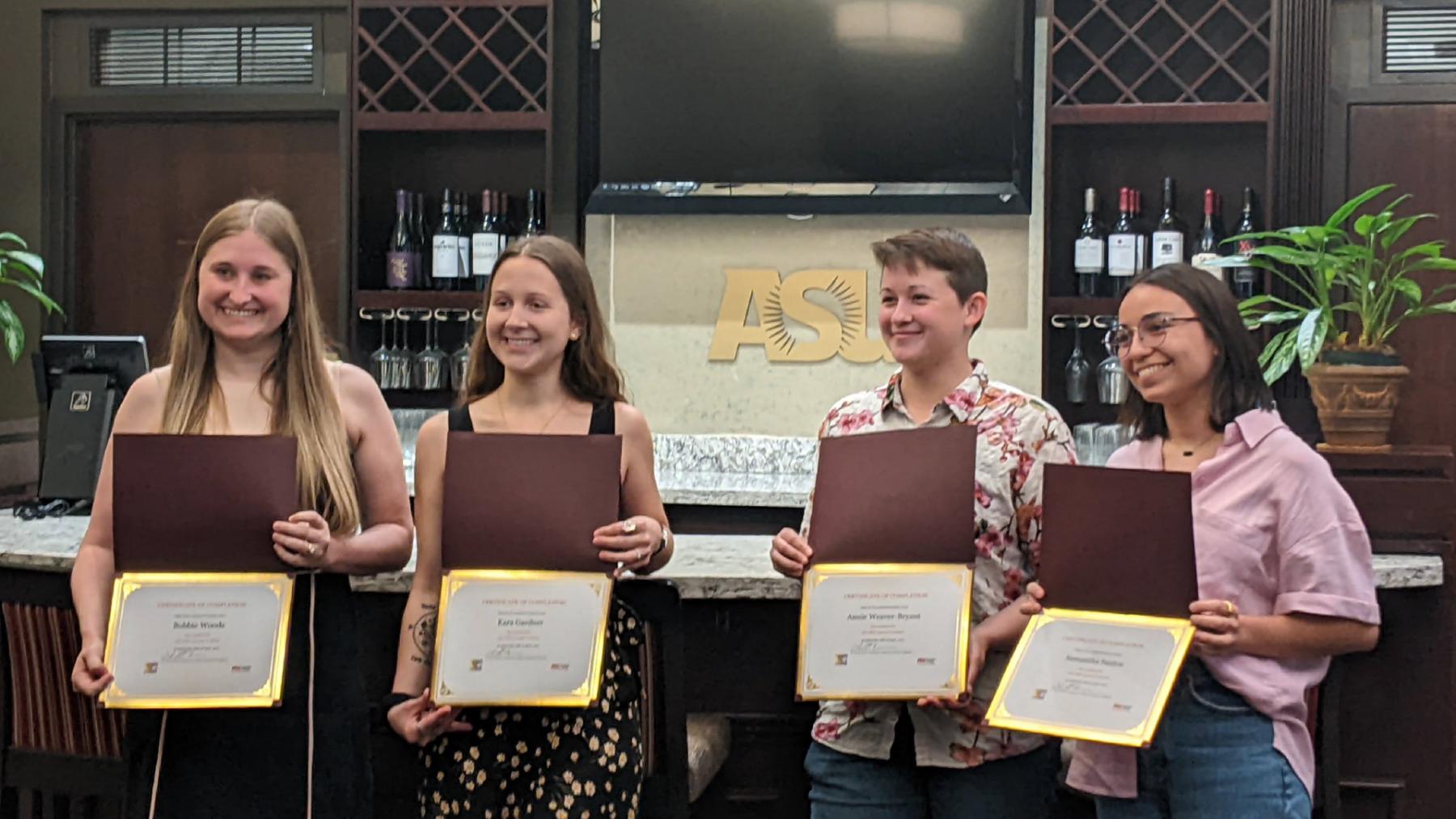 ASU students earn Center for the Integration of Research, Teaching and Learning Associate-level Certifications
Six students have been awarded Associate-level Certifications from the Center for the Integration of Research, Teaching and Learning Network. These graduate students — Kara Gardner, Rehab Meckawy, Samantha Santos, Katreena Thomas, Annie Weaver-Bryant and Bobbi Woods — are the first students at Arizona State University to earn CIRTL certifications. 
ASU became a member institution of the CIRTL Network last fall. This network seeks to develop a national faculty by engaging graduate students committed to enhancing excellence in undergraduate education through effective teaching practices for diverse learners. 
CIRTL, founded in 2003, offers a variety of offerings for members, including courses, workshops and online learning communities, among other things. 
Earning Associate-level certifications
Through CIRTL membership, graduate students and postdoctoral scholars have expanded opportunities for future faculty preparation.
"My participation with CIRTL taught me many different evidence-based teaching practices that will help me continue to improve my teaching strategies and be an effective instructor who promotes student learning and success," said Woods, a PhD student in the Family and Human Development program. 
Additionally, the CIRTL Network provides a community for its members.
"I intend to continue to earn certifications through the CIRTL network and stay connected with my newfound colleagues and friends," said Weaver-Bryant, a doctoral student studying environmental life sciences. "There is nothing quite like community when it comes to making beneficial change."
Get certified with CIRTL
All members of the ASU Community are welcome to participate in any of the free ASU/CIRTL offerings. Interested ASU graduate students, postdocs and faculty should create a CIRTL Network account. 
Graduate students and postdocs wishing to become certified by CIRTL may do so at three progressive levels — associate, practitioner and scholar — representing certain benchmark achievements. 
At the Associate-level, students and postdocs will describe and recognize the role of the CIRTL core ideas in effective teaching and learning. This learning outcome is demonstrated through completion of the eight-module CIRTL Associate-level non-credit course, which includes writing a teaching statement and diversity statement.
Learn more about CIRTL certifications.
Jenna Nabors