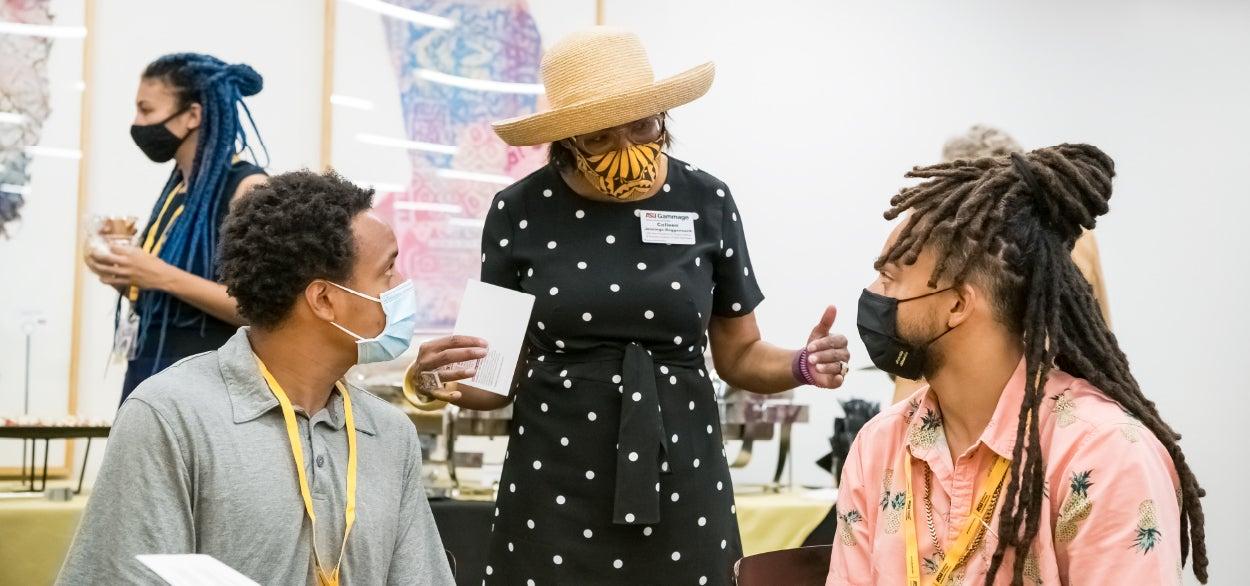 Meet ASU's first-ever cohort of presidential scholars
The Graduate College is pleased to welcome the inaugural cohort of Presidential Postdoctoral Fellows and Presidential Graduate Assistants to ASU. 
Launched as part of the LIFT Initiative — ASU's commitment to Black students, faculty and staff, and other underrepresented groups and individuals — the Presidential Postdoctoral Fellowship and Graduate Assistantship programs, administered by the Graduate College, were created to diversify the ASU faculty, award graduate students from underrepresented communities research and teaching assistantships and support ASU's ongoing efforts to develop and advance a culture of belonging and excellence. 
An acronym for Listen, Invest, Facilitate and Teach, LIFT is elevating conversations around the importance and significance of this transformation for the lived experiences of ASU's Black students, faculty and staff. 
"The Presidential Postdoctoral Fellowship and Presidential Graduate Assistantship programs help ASU accelerate meaningful change by bringing talented, diverse students and postdocs to the university," said Elizabeth A. Wentz, vice provost and dean of the Graduate College. "Our new scholars are advancing research that will help ASU contribute to a national agenda for social justice, a goal of the LIFT Initiative."
ASU established the Presidential Postdoctoral Fellowship Program to create a pathway to tenure-track positions at ASU for scholars from underrepresented communities. Four new fellows joined ASU this year. 
Also established this year, the Presidential Graduate Assistant program is a merit-based award created to support the recruitment, professional development and faculty mentoring of doctoral students in all fields whose research, teaching and service will contribute to advancing the ASU Charter. There are 22 graduate students in the Presidential Graduate Assistant 2021–22 cohort.
The Graduate College is preparing the call for proposals to go out to ASU academic units for the 2022–23 presidential postdoctoral fellowships and graduate assistantships.
Meet the 2021-22 Presidential Scholars
Gloria Appiah Nsiah
Ira A. Fulton Schools of Engineering

DeAndre Augustus
The College of Liberal Arts and Sciences

Theodore Beatty
Herberger Institute for Design and the Arts

Kevin Brown
Mary Lou Fulton Teachers College

Jamie Casseus
The College of Liberal Arts and Sciences

Vidya Chandrasekhar Krishnan
Ira A. Fulton Schools of Engineering

Xavier Celaya
The College of Liberal Arts and Sciences

Brittany Doss
College of Integrative Arts and Sciences

Miracle Freckleton
The College of Liberal Arts and Sciences

Kelsie Herzer
Ira A. Fulton Schools of Engineering

 

Ashlee Lambert
The College of Liberal Arts and Sciences

Kenneth Mims
Mary Lou Fulton Teachers College

Miguel Monzon
Herberger Institute for Design and the Arts

Aurora Munoz Casarrubias
The College of Liberal Arts and Sciences

Pauline Nalumansi
College of Global Futures

Eucharia Nwabichie
Edson College of Nursing and Health Innovation

Diego Olivo
The College of Liberal Arts and Sciences

Alejandro Olvera
The College of Liberal Arts and Sciences

Crestcencia Ortiz-Barnett
Herberger Institute for Design and the Arts

Antonia Primus
Edson College of Nursing and Health Innovation

Talia Saeid
The College of Liberal Arts and Sciences

Isaiah Woodson
Ira A. Fulton Schools of Engineering

 
 
Presidential Postdoctoral Fellows
Dominic Bednar
College of Global Futures

Emmanuel Salifu
Ira A. Fulton Schools of Engineering.

Juwan Bennett
Watts College of Public Service
and Community Solutions

 

Krystlelynn Caraballo
Watts College of Public Service
and Community Solutions
Jenna Nabors